Keys and locks are an essential part of our daily lives, providing us with the security and protection we need for our homes, cars, and businesses. When we encounter issues with our keys or locks, we need a reliable and experienced locksmith service to help us out. That's where the role of a key master comes in.
A key master is a specialist in the field of locksmithing, providing a range of services related to keys and locks. They use their knowledge and expertise to create new keys, duplicate existing keys, rekey locks, and repair broken keys and locks.
In this blog post, we'll explore the role of a key master and how they can help you with all your key-related needs.
At DoorBusters Lock & Safe, we are your trusted locksmith Las Vegas, offering professional residential and commercial locksmith services. With a commitment to excellence, we provide top-quality solutions for all your lock and key needs. Contact us for a free estimate and experience the expertise and reliability that sets us apart.
What is the Role of the Key Master?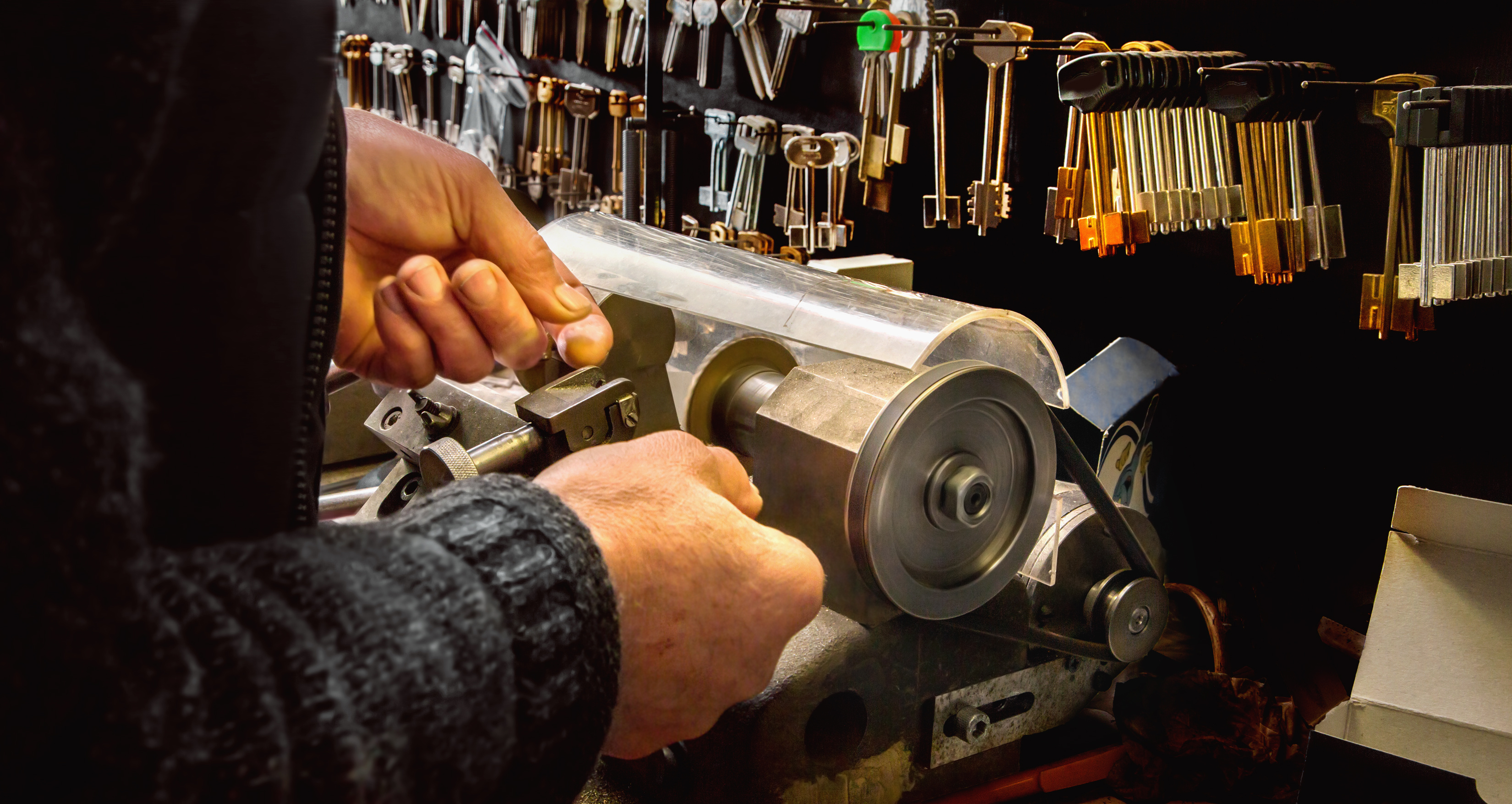 The role of a key master is to provide a range of locksmith services related to keys and locks. A key master is a specialist in the creation, duplication, and repair of keys. They use their expertise and knowledge to help customers with all their lock and key needs.
One of the primary roles of a key master is to create new keys. This service is essential for those who have lost their keys or need a spare key. A key master can create new keys for a wide range of locks, including residential and commercial locks, automotive locks, and even safe keys.
To create a new key, a key master will typically use a key-cutting machine. This machine uses a template or code to cut a new key to the exact specifications of the original key. Key-cutting machines are highly precise and can create keys that are identical to the original key.
A key master can also provide rekey locks. Rekeying involves changing the lock cylinder so that it works with a new key. This service is important for those who have lost their keys or for those who want to improve the security of their property.
Rekeying is a more cost-effective solution than replacing the entire lock. It also ensures that any lost keys or stolen keys will no longer work with the lock. A key master can rekey a wide range of locks, including residential and commercial locks, automotive locks, and even safe locks.
In addition to creating and duplicating keys, a key master can also repair broken keys and locks. This service is essential for those who have a broken key or lock and need it fixed as soon as possible. A key master has the tools and expertise to repair broken keys and locks quickly and efficiently.
Another important role of a key master is to help customers choose the right locks and keys for their property. A key master can provide advice on the best locks and keys for residential and commercial properties. They can help customers choose high-security locks.
Overall, the role of a key master is to help customers with all their lock and key needs. Whether it's creating new keys, duplicating existing keys, rekeying locks, or repairing broken keys and locks, a key master has the expertise and knowledge to provide the right solution for each customer's locksmith needs.
Learn About Keys and What Key Does What
Keys come in a variety of shapes and sizes, and they serve different purposes. Here are some common key types and their purposes:
House Keys
House keys are the most common type of key. They're used to lock and unlock residential doors, including front doors, back doors, and interior doors.
Car Keys
Automotive keys are used to lock and unlock cars, trucks, and other vehicles. These keys are specifically designed for the ignition and door locks of your vehicle.
Safe Keys
Safe keys are used to lock and unlock safes, which are designed to protect valuable items from theft or damage. You need to find a locksmith to help you with safe key replacement, safe opening, and safe repairs.
Master Keys
Master keys are designed to open multiple locks. They're often used in commercial and industrial settings, where multiple people need access to different areas of a building. A master key can open all the locks in a building, while sub-master keys can open specific areas of the building.
Skeleton Keys
Skeleton keys are old-fashioned keys that can open many different types of locks. They were commonly used in the past but are less common today. Skeleton keys can be used to open many different types of locks, but they don't provide very strong security.
Electronic Keys
Electronic keys are used to lock and unlock electronic locks, such as those on hotel room doors, apartment buildings, and other facilities. Electronic keys are often programmed to work only during specific times and can be deactivated if lost or stolen.
Know the Difference Between Residential Locks/Keys and Business Locks/Keys
When it comes to locks and keys, there are significant differences between those used in residential settings and those used in business environments. Understanding these differences can help you make informed decisions regarding the security of your home or business. Let's explore five key distinctions between residential locks/keys and business locks/keys:
Security Level
Residential locks are designed primarily for convenience and moderate security. While they provide a level of protection for homes and apartments, they are generally simpler in design and offer fewer security features compared to commercial-grade locks.
Business locks, on the other hand, are built to withstand higher security demands. Commercial-grade locks often incorporate advanced mechanisms, such as deadbolts, keyless entry systems, and access control systems, to provide enhanced security for offices, warehouses, and other business establishments.
Durability
Residential locks are typically designed for occasional use and lower traffic compared to their commercial counterparts. They are built to withstand regular residential use but may not be as durable when faced with frequent or heavy usage.
Business locks are engineered to withstand the rigors of high-traffic office environments. They are constructed with robust materials and components to ensure durability and longevity even when subjected to continuous locking and unlocking throughout the day.
Complexity
Residential locks are often simpler in design and operation. They typically involve standard key and lock mechanisms, requiring a basic understanding of how to operate them.
Business locks can be more complex, especially in commercial settings where advanced security features are necessary. They may involve keyless entry systems, electronic keypads, biometric readers, or card access systems, which require specialized knowledge for installation, maintenance, and operation.
Key Control
In residential settings, key control may not be a significant concern. Homeowners generally have fewer keys and can easily manage them. Commercial locksmiths often provide key management solutions, such as master key systems or key card systems, to ensure controlled access and minimize the risk of unauthorized duplication.
Compliance with Codes and Regulations
Residential locks and keys typically need to comply with local building codes and regulations related to safety, fire escape routes, and accessibility standards.
Business locks and keys may have additional compliance requirements depending on the industry and the location or type of business. For example, healthcare facilities, financial institutions, or government buildings may need to adhere to specific security regulations.
Your Trusted Local Locksmith in Las Vegas, NV – Call DoorBusters Lock & Safe Today!
If you're looking for a reliable local, locksmith service in Las Vegas, look no further than DoorBusters Lock & Safe. We offer a wide range of locksmith services to meet all your needs, from emergency lockout services to key duplication, lock repair, and more. Our team of licensed and experienced locksmiths is available 24/7 to assist you with any lock and key issues you may have.
We use only the best quality locks, keys, and other security products, and we stay up-to-date with the latest trends and techniques in the locksmith industry. We offer transparent and competitive pricing for all our services, and we're always happy to answer any questions you may have about our services.
Contact us today at 702-605-6799 to learn more about our locksmith services, or to schedule an appointment for emergency locksmith assistance in the Las Vegas area.